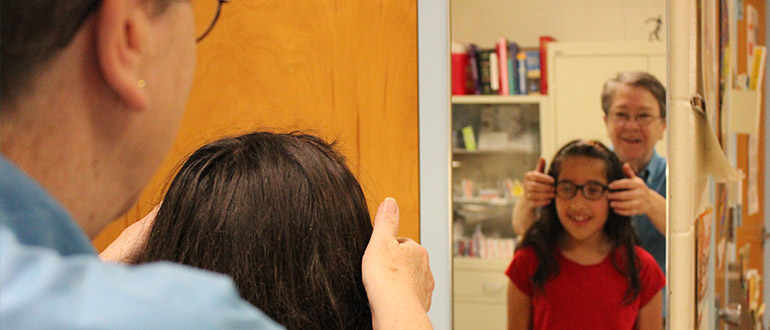 School Vision Programs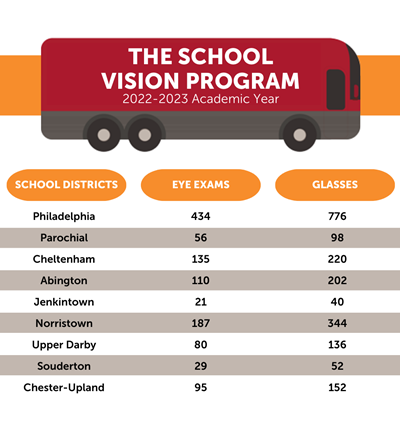 Children who live in poverty have many challenges to acquiring accessible healthcare, including vision care. These barriers are often difficult to overcome without the assistance of a concerned community. The Eye Institute (TEI) and its staff have taken up the challenge to do their part by providing quality vision care, eyeglasses, and other treatments to the most vulnerable segment of our population - children living in poverty. Good vision is essential to academic success and education is central to reversing the cycle of poverty that affects children and families. The Eye Institute's dedication to reduce vision health disparities in children is our longstanding commitment and steadfast hope for the future.
For many years, we have had a strategic alliance with the School District of Philadelphia to provide vision care services to their students. Working closely with school nurses, TEI deploys vision care teams to schools to provide free vision screenings. For children who fail the vision screening, we work with schools nurses to schedule students at TEI for comprehensive vision care and eyeglasses. Each year, several hundred children are transported to TEI for the care they need.
Hear from some of The School District of Philadelphia nurses we work with...
Amy Gadea, MEd, BSN, RN, CSN - Elkins Park School
"I just wanted to send a quick email to THANK YOU for seeing ALL of the Elkins Park students this morning!! Thanks for being so accommodating and kind to all of the students. You have a great program going and I hope that it continues indefinitely."
Margo R. Owen, CSN - Franklin S. Edmonds Elementary School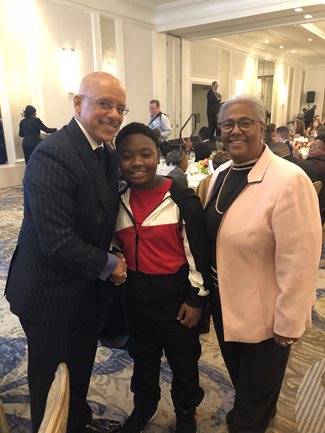 "I have had the pleasure of working with the School Vision Program for the past seven years. The assistance with annual vision screenings for our students has been invaluable with meeting our state mandated requirements as well as identifying visual deficits that can truly impact a student's ability to learn effectively. The addition of the extended follow-up - providing a bus to transport those students needing further evaluation to one of the three clinical sites, providing those students with a FREE exam and two FREE pair of glasses through the Looking Out For Kids Charity - is amazingly incredible! Once the glasses are ready, the extreme convenience of the optometrist and an assistant delivering and fitting the students with their glasses in the school is total care delivery with excellence!!! I THANK YOU for your excellent service to our students and for your donors, through their donations, who continue to enable those who may not be able to afford such excellent care with bestowing this service and gift."
Stephanie Harrison, RN - E. W. Rhodes Elementary School
"When The Eye Institute is coming to our school, there's a buzz of excitement in the air. Our teachers pass along their list of students who may be having trouble seeing and/or reading. We are teaching the importance of having their eyes checked and everyone knows what a gift our students receive from The Eye Institute when they extend their valuable time to us. Parents will ask as early as the start of the school year, when is the "eye doc" coming. Our students are comfortable interacting with the optometrist and students from The Eye Institute.
As a school nurse, helping keep students healthy ensures that they can be in school and are able to learn. Teaching our students the value of healthy eyes is a huge bonus. The Eye Institute is front and center in this endeavor. Thank you for all that you do for our students!"
Hope B. Waller RN, CSN - Kensington Health Sciences Academy
"The Eye Institute field trip was a truly exceptional experience for our student, Leonardo. Leonardo has exceptional challenges in the area of communication and cognitive ability. The staff, from the front desk to the doctors made him feel comfortable and welcomed. The entire team was highly trained and professional. Before the eye exam began, the procedure was explained to Leonardo in great detail using concrete language that he could understand. There were no surprises and the exam went exactly as planned. The doctors took as much time as needed to complete a thorough eye exam. In the end, Leonardo received a stylish pair of eyeglass that not only allowed him to see more clearly, but his confidence was also boosted! I would highly recommend The Eye Institute as a full-service vision center, to meet all students needs."
Lisa Simpson, RN, MSN - General George G. Meade School
"Thank you so much for allowing us an opportunity to tell others how wonderful and how much this program impacts the lives of our students here at Meade. Our students are from low income families and being able to acquire new glasses is a luxury. It is difficult for their parent to make and keep appointments when they have to travel with a lot of siblings. It is also very expensive. Having The Eye Institute come to the school to do screenings and pick up the children that need a more thorough exam is a blessing. The children that have received glasses are doing better in school. They have expressed their gratitude to me about being able to participate in this program. When I see the children in class, their glasses are on and they are paying attention because they can see the board and read the work in a book. Our parents try but again as the school nurse I say, "Bless you all and bless this program for the positive impact on our children's ability to learn at Meade! If you can see you can learn."
Regina Ward, RN, MNS, CSN - D.Newlin Fell Elementary
"I had the great fortune of working with The Eye Institute school program. This wonderful team has greatly enhanced the lives of our kindergarten through 8th grade students by offering a thorough assessment of each child's eyes and an expedient visit to the eye doctor if needed.
Each school year would start with The Eye Institute sending out a team to do a thorough assessment of all of our student's eyes. This meant more than one visit so they could assess each student. Each visit was as smooth and productive as a well-oiled machine. We all worked so well together that it was a pleasure anticipating their return each year. They brought such a wonderful attitude and love of children that was obvious with their interaction with each child. The students always started out the school year asking when The Eye Institute was coming because they loved the experience of the vision screening assessment, the bus trip to The Eye Institute, the visits with the eye doctors, and picking out their own eyeglass frames. Parents loved this experience as well since their program allowed them to go to work knowing their child was getting great care. Parents were also welcomed to come to The Eye Institute for each visit via their own transportation or on the school bus with me and the other children. The parents were pleased to have so many options.
On more than one occasion, I had parents tell me that they were in awe of the thorough exam by The Eye Institute's doctors when compared to their experience with other eye doctors. Some of these parents then changed from their previous eye doctor to The Eye Institute even though it was a further ride to get there.
On one of our May visits, the optometrist found something suspicious and called the parent explaining that the child needed further testing immediately to rule out a tumor. This visit was at the end of the school year so I was astonished when I received a phone call from the eye doctor in September informing me that the child had not returned for a follow-up visit and parental calls were not being returned. I was surprised with the extreme dedication shown by this doctor; then I should not have been surprised considering I only see the highest qualities in The Eye Institute staff. I called the parent and found out that the child had not been seen due to various circumstances. The Eye Institute and I then worked together to have this child seen and luckily there was no tumor. I have never experienced this type of dedication from a doctor who showed such a compassionate and caring mannerism.
For the reasons mentioned above, I hold The Eye Institute in great esteem and thank them fiercely for always being willing to help in screenings, quick doctor visits and follow-ups. They even changed the types of frames that they showed our students when I informed them that the wire frames were not durable for our population. You can't ask for better customer service than that.
It has been fun to watch the kindergarten children lift up her eyeglasses and look around the room; mesmerized that they can see better now. They did not know that there was a problem and that there were further distances to see and sharper images to enjoy.
It has been fun hearing from excited teachers sharing that a child who was failing is now passing since receiving eyeglasses. Thank you to all of the staff at The Eye Institute who have enhanced the lives of our students; therefore, also making a lot of parents and teachers thrilled with the results that the eyeglasses made on the children."
Christine Slavin, RN, MSN, FNP, CSN - Laura H. Carnell Elementary
"I just want to write and let you know that you guys do a great service to me and our school community! I am so grateful that the School District of Philadelphia and Salus University have this partnership. As you can only imagine on some days it is overwhelming in the school and trying to find the time to conduct mandated vision and hearing screenings is daunting. You have simplified the process for me. You come prepared and accomplish a lot and I hardly have to do a thing but send the students to you.
Your administrative staff makes it easy because communication is open and scheduling is simple. The documentation that the doctors provide makes it seamless for me to enter the information into our systems. The follow up that you provide is what makes this whole experience ideal. As a nurse, knowing that those who failed their vision screen will get to come to Salus University, get an eye exam and glasses if needed is priceless. The look on a students face when they can see is remarkable.
I feel blessed to have this working relationship with you and look forward to continuing our GREAT relationship."
Alice Carr, MSN, RN, WOCN, CSN - Crossroads Accelerated Academy, Philadelphia Learning Academy South and Excel Middle Years Academy
"I have only been with the District since 2018 and in that time I have had the pleasure of working with the men and women from The Eye Institute at Salus University. They are a knowledgeable, helpful, and caring group of individuals who came to my schools and performed eye examinations. Salus students and their Instructor came to the school on multiple occasions and the children who had failed their vision test were examined by the Vision Mobile physician and prescribed glasses.
There are many Districts where families are disenfranchised and unable to afford health services for their children. The Eye Institute is an integral part of these districts.
Keep up the great work."