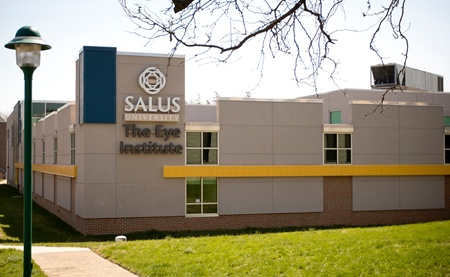 The Eye Institute (TEI) has been a valuable vision care resource for Philadelphia and the Delaware Valley since opening its doors in 1978. As the clinical practice of the Salus University Pennsylvania College of Optometry (PCO), TEI employs a multidisciplinary approach- with optometrists, ophthalmologists, opticians, optometric technicians, optometric interns (trainees) and other health care professionals working together in order to provide comprehensive vision care for nearly 50,000 patients annually.
Founded in 1919, PCO has been a leader in clinical training, teaching, innovation and vision research. The Eye Institute's expansion of services over this 30-year period is representative of the growth of its "mother organization," PCO. Once a single purpose institution, PCO has added additional degree programs in the healthcare field during recent years. In 2000, the College added an audiology program, while 2007 brought the addition of a physician assistant program. These programs supplemented the graduate studies in vision impairment program, established in 1983.
The inclusion of new degree programs made it necessary for PCO to consider a structure clearly characterizing the diversity of this professional and graduate development. After applying and being granted university status, on July 1, 2008, Salus University was created.
Salus (Latin for health and well-being) continues PCO's legacy of quality professional education. Most importantly, The Eye Institute remains the valued vision care resource to the community it serves, continuing to provide the highest quality eye care available. The Eye Institute- "The Clear Choice" for your vision care needs- is a component of Salus University.