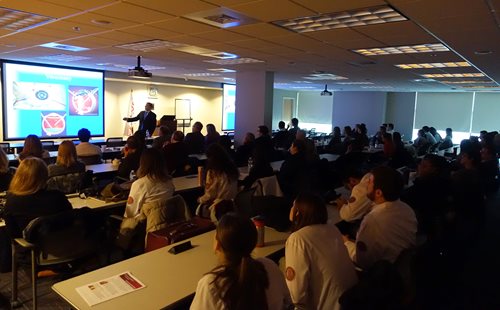 The Eye Institute's Grand Rounds at the Pennsylvania College of Optometry are offered virtually to faculty, residents, students and alumni. The goals of the program are:
To develop a network of professionals in order to share information and strengthen clinical knowledge
To foster professional development in the optometric community
To provide Continuing Education opportunities to alumni and friends of Salus University
Grand Rounds programs are COPE accredited and open to local eye care providers at no charge. Grand Rounds are offered via Blackboard Collaborate on Fridays, several times per month, from 7:30 a.m. - 8:30 a.m. Advance registration is required. For more information contact ceregistration@salus.edu.
Upcoming Grand Rounds Sessions:
 
December 8, 2023: "Now You See It, Now You Don't: Cilioretinal Artery Occlusion in the Presence of a Central Retinal Vein Occlusion" with Dr. Nia Phillips and "Long COVID and its Effects on Binocularity" with Dr. Brandon Garces
January 12, 2024: Dr. Elizabeth Marunde
January 26, 2024: Drs. Rachel Shackelford and Victoria Duque-Ferreira
February 9, 2024: Dr. Ryan Keenan
March 8, 2024: Drs. Karan Johal and Ellen Ren
April 12, 2024: Drs. Erica Frost and Dariela Cardo