The Chestnut Hill office building is undergoing renovations for the next few months. Fencing has been erected around the building to ensure safety within the construction area. Please be assured our offices are still open during the renovations to continue to serve your eye care needs.
Chestnut Hill Plaza
7630 Germantown Avenue
Philadelphia, PA 19118
Appointments: 215-276-6111
Hours of Operation
Monday, Thursday and Friday: 8:00 a.m.- 5:00 p.m.
Tuesday, Wednesday: 8:00 a.m.- 8:00 p.m.
Saturday: 8:00 a.m.- 4:00 p.m.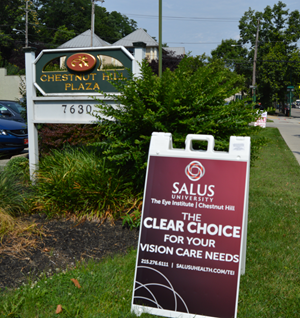 Public Transportation
The Chestnut Hill Plaza is located between West Mermaid Lane and Cresheim Valley Road. The SEPTA bus route 23 stops in front of the plaza. To confirm the best route for you, please contact SEPTA at www.septa.org or 215.580.7800.
Eyewear/Optical Center Hours
To control the flow of patients and staff in the optical center, we have implemented a concierge style "By Appointment Only" model. Please call 215.276.6040 to get scheduled for an appointment in the optical store.
The Optical Center will not take new orders one hour prior to closing. This time is for dispensing, adjustments and cleaning up.