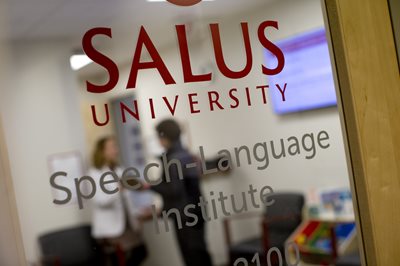 Speech-Language Pathology (SLP) is a field of expertise practiced by clinicians who specialize in the evaluation, treatment, and prevention of communication and swallowing disorders.
At the Speech-Language Institute (SLI), speech-language pathologists provide a wide range of pediatric and adult assessment and intervention services, while providing valuable clinical experience to graduate students in the Department of Speech-Language Pathology.
Salus University's highly-trained clinical faculty provide Primary Care while supervising and mentoring speech-language pathology students as they gain important knowledge on evidence-based practice. This method of training is designed to maximize treatment outcomes as our students receive fundamental education and training to grow the speech-language pathology profession.
Speech-language pathology faculty and students work closely with our clients and their families in order to create treatment plans tailored to each client's strengths, limitations, and anticipated outcomes, in order to rehabilitate or enhance specific skills.
The faculty and students practicing at the Speech Language Institute do not discriminate in the delivery of clinical services on the basis of race or ethnicity, gender, age, religion, national origin, sexual orientation, or disability.