History of the Pennsylvania Ear Institute of Salus University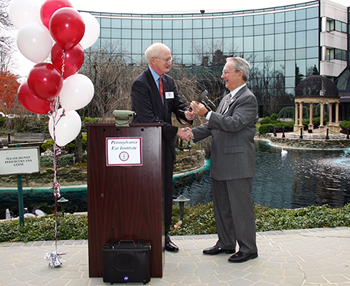 The Pennsylvania Ear Institute, located on our Elkins Park campus, is the clinical practice for the Salus University Osborne College of Audiology. As one of the first institutions in the nation to offer the Doctor of Audiology (AuD) bridge degree and the on-campus AuD degree, our students help diagnose, treat, and manage patients with hearing and balance disorders.
Dr. George S. Osborne was one of the pioneers in the movement to get the Doctor of Audiology (AuD) degree recognized as the entry-level degree for the audiology profession. He knew that a clinical component of the AuD curriculum is critical to the success of that goal and believed that a clinical facility is vital to the education of a Doctor of Audiology (AuD) student.
As dean of the then Pennsylvania College of Optometry (PCO) School of Audiology, Dr. Osborne proudly presided over the opening of the Pennsylvania Ear Institute (PEI) on November 19, 2004, just in time to welcome the first four-year, on-campus class of AuD students to this new facility, where they would learn patient care under the guidance of experienced audiology faculty.
In June 2007, a month after he presided over the commencement of the first four-year class of AuD graduates, Dr. Osborne passed away. Dr. Osborne's passion for audiology and his dedication to elevating the profession continued to have an impact even after his death. When PCO established Salus University on July 1, 2008, the PCO School of Audiology was renamed George S. Osborne College of Audiology in his memory.
Dr. Osborne's legacy of a robust clinical experience for our students in a clinical facility that offers state of the art technology and equipment continues today. Ensuring that our patients are offered the best clinical facility for their hearing and balance needs, Pennsylvania Ear Institute expanded its original area in February 2008 and renovated that space in the fall of 2014.
All PEI staff audiologists are Doctors of Audiology and all are dedicated to the formulation of diagnosis and treatment plans for our patients that take into account the latest developments in the profession. During a visit, patients may find our students assisting with their care. This unique combination of patient care and focus on education allows our patients to gain more knowledge regarding the details of their care, as we use state-of-the-art technology to optimize the patient care experience.