The Speech-Language Institute (SLI) of Salus University serves patients with a wide variety of speech, language, communication, feeding and swallowing disorders. Speech-Language Pathology (SLP) faculty and students work closely with clients and their families in order to create treatment plans tailored to each client.
Since its inauguration, SLI has enhanced the quality of life of hundreds of individuals with communication and swallowing impairments in the greater Philadelphia area. 
Here, Kara Maharay, MS, CCC-SLP, BCS-S, director of Clinical Education at SLI, and Robert Serianni, MS, CCC-SLP, FNAP, chair and program director of the department of  Speech-Language Pathology at Salus University, talk about how SLI filled a need in the communities it served. 
Kara Maharay: Our graduate students had an assignment in class where they had to talk to their cohort colleagues about a client they were seeing in the SLI and the evidence-based treatment they were using with that client and the outcome. Those stories just made me realize that all of these small moments that happen here are really life-changing for our clients and I'm just really thankful and thrilled to be a part of it, but it also motivates me to want to offer more services and do more for the community.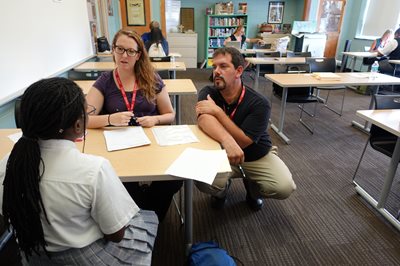 Robert Serianni: The clinic was built really to provide that educational experience that hands-on clinical exposure Salus is known for as part of their graduate program. What we found was that SLI really began to fill the need in the community for a provider that wasn't charging insurances or families out of pocket for services. Speech pathology services sometimes are capitated or capped and become very expensive for patients, clients and students seeking communication and swallowing services. Donations go right into the funding for the clinic. They make sure that the clinic continues to provide not only cutting edge graduate education, but services that our community really benefits from.
If you or a loved one are in need of speech-language therapy, please contact the Speech-Language Institute today at 215.780.3150.