The Speech-Language Institute (SLI) of Salus University serves patients with a wide variety of speech, language, communication, feeding and swallowing disorders. Speech-Language Pathology (SLP) faculty and students work closely with clients and their families in order to create treatment plans tailored to each client.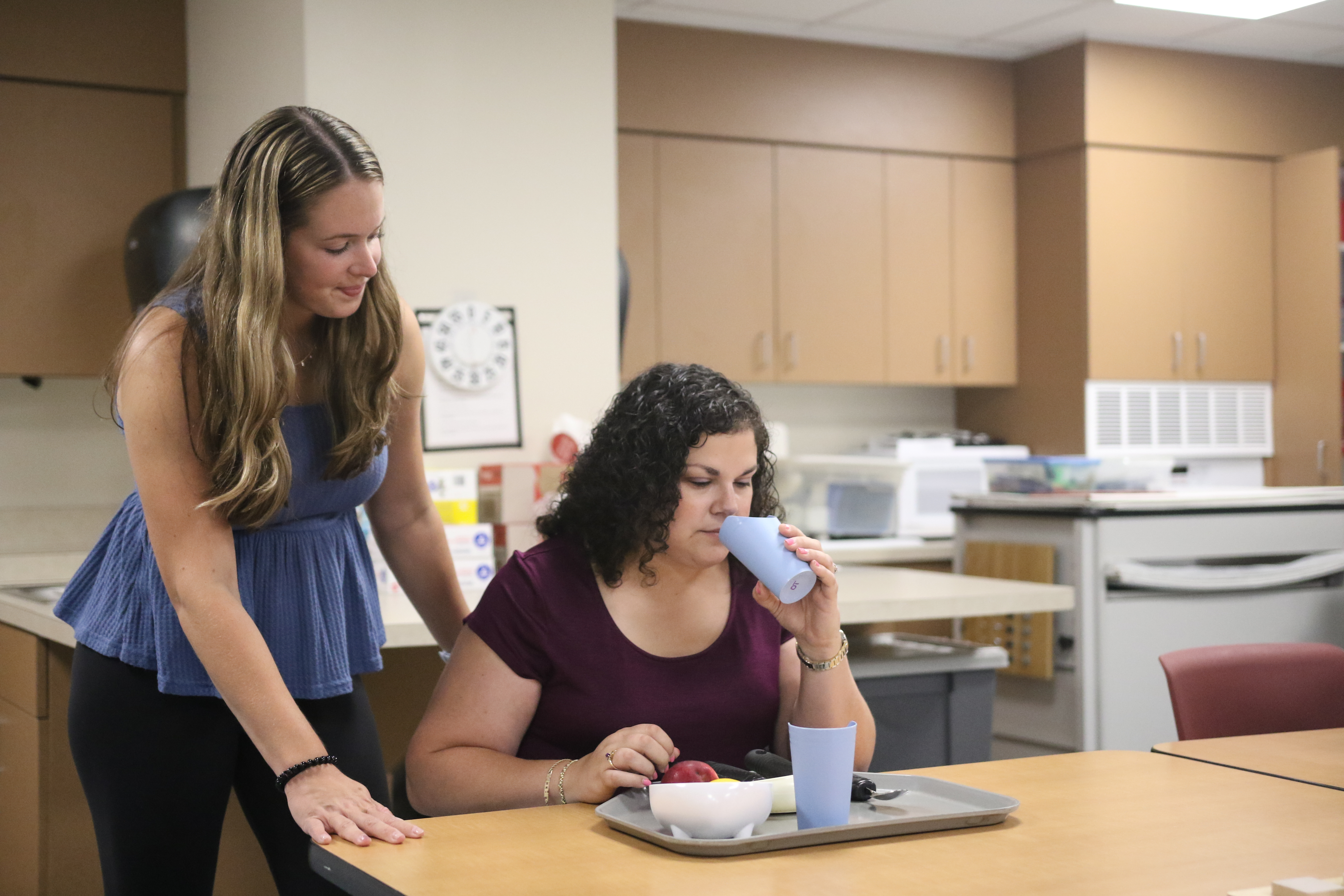 For those with a swallowing disorder, also called dysphagia, it takes more effort and time to move liquids or food from their mouth to their stomach.
Karen W., mother of client Brent W., shares her journey of her son Brent's dysphagia diagnosis. With the help and guidance of the Speech Language Institute (SLI), Brent has been able to experience swallowing soft foods during their therapy sessions. 
Taylor Evans, SLI Office Manager: SLI (Speech-Language Institute) has had a huge impact on the community, whether it is between our individual and group services that we offer in the clinic here, or the community screens that we offer out in the public, and also the community groups that we offer at independent living facilities and preschools.
Karen W., mother of client: We started out just swallowing, trying swallowing, and Dr. (Kelly) Salmon came in and did a throat x-ray to see, make sure that he was swallowing correctly and it was going to the right place. She stayed with us in this, and we've been trying more and more things like mashed potatoes, sweet potatoes, and things that he likes and he's doing really good at swallowing.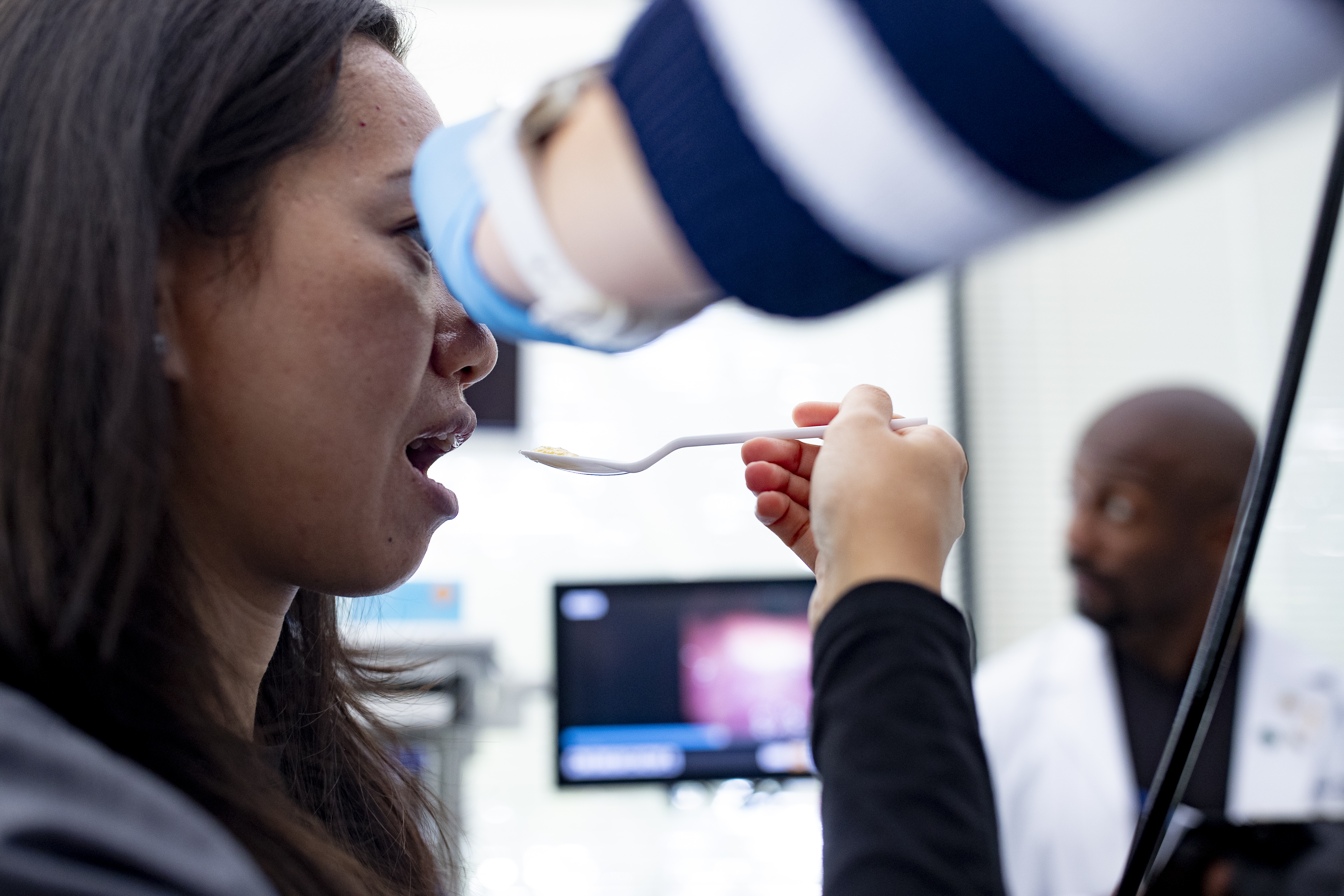 Carly Clayton, '24SLP: We have access to things here that we might never have access to in the real world, and those things will definitely increase my knowledge in the future. I love treating the clients. Seeing the smiles on their faces and seeing the gains that they make because of what we do and because of the knowledge that we have.
Kelly Salmon, SLPD, CCC-SLP, BCS-S, CLT-LANA, NDC worked closely with Brent and his mother Karen to set swallowing goals for him to eat and drink for social purposes with his loved ones. 
Kelly Salmon: We started working more on his swallowing as a goal to be able to allow him to at least be able to eat and drink for social purposes, to be able to sit at the dinner table with his family to enjoy dessert or enjoy a cup of tea with his mom. We're able to do some of those more advanced swallowing assessments here in the SLI with our endoscopy equipment, so we don't have to necessarily send someone out to a hospital to have a test done. We're able to do that here and use that information immediately in our therapy sessions.
Karen W., mother of client: It just makes me feel good. I know that Brent is going to be fine, that he's going to be eating. We're going to get rid of that, and I'm very encouraged. 
A speech-language pathologist (SLP) can closely evaluate someone experiencing symptoms of a swallowing disorder. Possible evaluations may include:
A detailed case history of medical conditions.

Looking at the strength of the muscles used for swallowing.

Observing eating behaviors such as posture and oral movements.

A barium swallowing study, which involves the patient eating or drinking items containing barium. The process is viewed on an X-ray to see any coordination issues with the mouth and throat muscles.

An endoscopic assessment, in which a lighted scope is inserted into the patient's nose so swallowing can be observed on a screen.
Treatment plans vary depending upon the type and cause of swallowing disorder. Some techniques SLPs use are: specific swallowing exercises, positions or strategies to help someone swallow better – such as using thickening liquids to make things easier to swallow – or recommending certain foods/liquids.
If you or a loved one has difficulty swallowing or are in need of speech language therapy, contact the Speech-Language Institute today at 215.780.3150.