There was a moment during Salus University's 15th annual Looking Out for Kids (LOFK) charity fundraiser that illustrated just how important this program is to the communities it serves.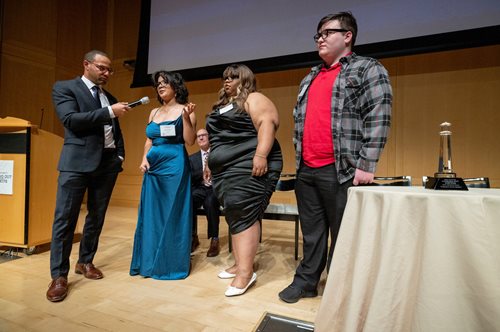 Three students from Ligouri Academy in Philadelphia — Aaliyah Manon, Rain Branch and Stephen Girmscheid — each shared their personal stories about receiving vision care through the LOFK program — the goal of which is to ensure underserved children who don't have access to healthcare services receive quality eye and hearing services — and how it not only had changed their lives but how it had given them renewed hope for their futures.
"I am an artist and I also love to read. So, when I first started school, I didn't have glasses," said Manon. "Getting glasses from Looking Out for Kids really helped me out. I can see better details in my paintings and I know what to fix now. I also don't have struggles seeing the board in class."
Branch said she wants to be a culinary chef and open her own business. Being able to clearly see, she said, will help her to achieve that goal.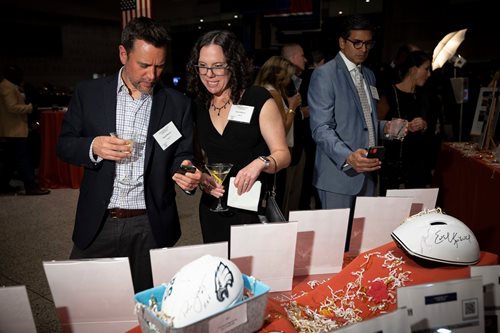 "I was reading with the book in my face. Then someone at school took me aside and said, 'Rain, where are your glasses?' I was like, 'I don't have any.' And then I went to Looking Out for Kids and got glasses. I can see way better now," she said.
Stories like that encouraged sponsors, donors and guests who filled an auditorium at the National Constitution Center on the evening of Nov. 12, 2022, to support LOFK.
"This program absolutely changes the lives of children," said Salus president Michael H. Mittelman, OD '80, MPH, MBA, FAAO, FACHE. "We bring them to The Eye Institute (TEI) and visit them with the Big Red Bus (the University's traveling eye and ear exam unit) and they get comprehensive exams. It changes lives and it's absolutely amazing."
Those attending the event had the opportunity to bid on several auction items, participate in a 20-20 "Heads or Tails," and enjoy music and a sit-down dinner. It was the first in-person LOFK event since the start of the pandemic.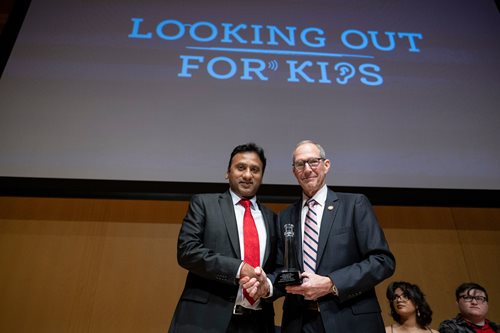 According to Jacqueline Patterson, vice president of Institutional Advancement and Community Relations for the University, the event raised $95,000, which will fund the program for one year. 
"As we emerge from an extended period of social distancing, the need for eye and hearing care in youth has been magnified in our neediest communities," said Patterson. "I am thankful for the support from our donors, including alumni, faculty, and staff that attended the fundraiser." 
The title sponsor, who also has been the longest and largest donor for this event, was National Vision, Inc., whose CEO Reade Fahs sits on the Salus Board of Trustees. Representing National Vision at the event was Donald Smith, OD '73, director of professional relations for the company, introduced a video message from Fahs, who was unable to attend in person.
"The work that Looking Out for Kids does is more important than a lot of people realize," said Dr. Smith. "Sometimes we forget that a simple pair of glasses can change someone's life. We here at National Vision could not be more aligned with the goals and mission of Salus University and Looking Out for Kids."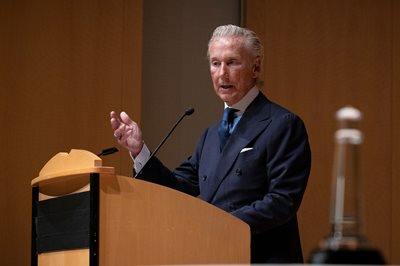 Johnny Archer, a reporter for NBC10 News in Philadelphia, served as emcee for the evening. It was Archer's first LOFK event and he was filling in for his NBC10 colleague, longtime host Rosemary Connors, who is due to deliver a baby soon.
I wasn't familiar with the organization prior to being asked to emcee. When I looked into it, I said yes, this is great and I want to be part of it," said Archer. "First of all, I love the kids and that's what this is about. Hearing their stories, hearing what they went through and hearing what their aspirations are was inspiring for me. It made this whole event come together." 
The 2022 Lighthouse Award winner, given to those who are considered beacons of light and sources of strength in the community in which they live, work and serve above and beyond their occupations, was presented to Kovin Naidoo, BSc, BOptom, MPH, OD '95, PhD, DHL (Hon).
A Pennsylvania College of Optometry (PCO) alum, Dr. Naidoo distinguished himself early as a thought leader in global education and public health. He was instrumental in bringing Uncorrected Refractive Error (URE) — poor vision due to the lack of eye exams and glasses — to center stage of the global public health agenda.
He currently serves as the Global Head, Advocacy and Partnerships of the OneSight EssilorLuxottica Foundation, where he leads international efforts to build partnerships and advocate for awareness and policies that make the United Nations and World Health Organization policy on vision care a reality.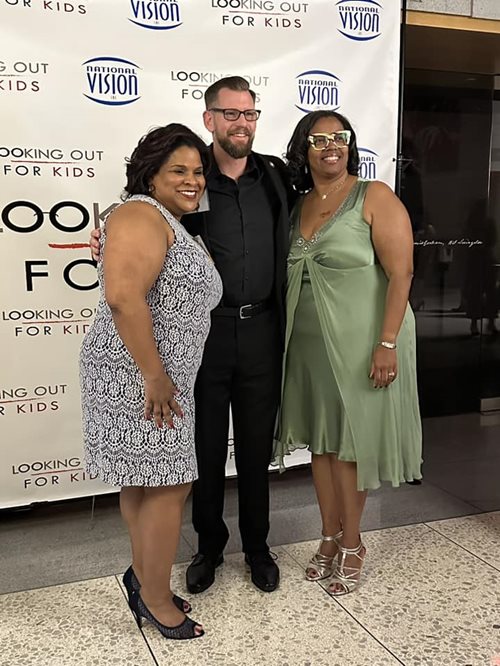 "This is a serious public health problem," said Dr. Naidoo. "We published a paper where we showed, by 2050, half of the world's population will be short-sighted because of digital use, lack of time outdoors, etc. Poor kids are going to be left even further behind if we don't do something. And, that's what's special about this program. We need to reach kids as soon as we can, and not only in the developing world."
Geoff Brandon, senior vice president/regional vice president for TD Bank in the Philadelphia market, said that Dr. Naidoo's vision and mission are exemplary.
"It was moving to hear his thoughts about what LOFK is doing by transforming lives. It was absolutely a special evening," said Brandon, who represented TD Bank in accepting the 2021 Lighthouse Award.
Brandon also serves on the Presidential Council for the National Constitution Center, which made the night even more memorable for him. "This is a special venue, and especially at this time in our country," he said. "It's never been more important to value and understand what we do as a nation and why." 
In addition to National Vision, Inc. as the event's platinum sponsor, gold sponsors included EssilorLuxottica and MyEyeDr and Lindy Communities; silver sponsors were Conicelli Toyota and CooperVision. Bronze sponsors are listed here.