In the past, it has been challenging for Margarita Cintron to get her adult son Daniel to use a communication device. Diagnosed with autism, he's mostly non-verbal and has struggled learning how to use a device to communicate.
To compound the issue, Daniel's father died a year and a half ago, and the additional stress on the family has taken the focus off helping Daniel effectively communicate with others.
But there is reason for hope, thanks to the Eagles Autism Foundation and the Speech-Language Institute (SLI) of Salus University.
Because of a grant from the foundation, some of those funds have been used to provide Daniel with an Augmentative and Alternative Communication (AAC) device. And, it appears Daniel is happy learning how to use it to communicate with others. "It supplements his current communication capabilities. He doesn't have a lot of verbal communication right now, so you can think of it as his voice," said Susan DeMilia, MA, CCC-SLP speech-language pathologist and clinical educator at SLI.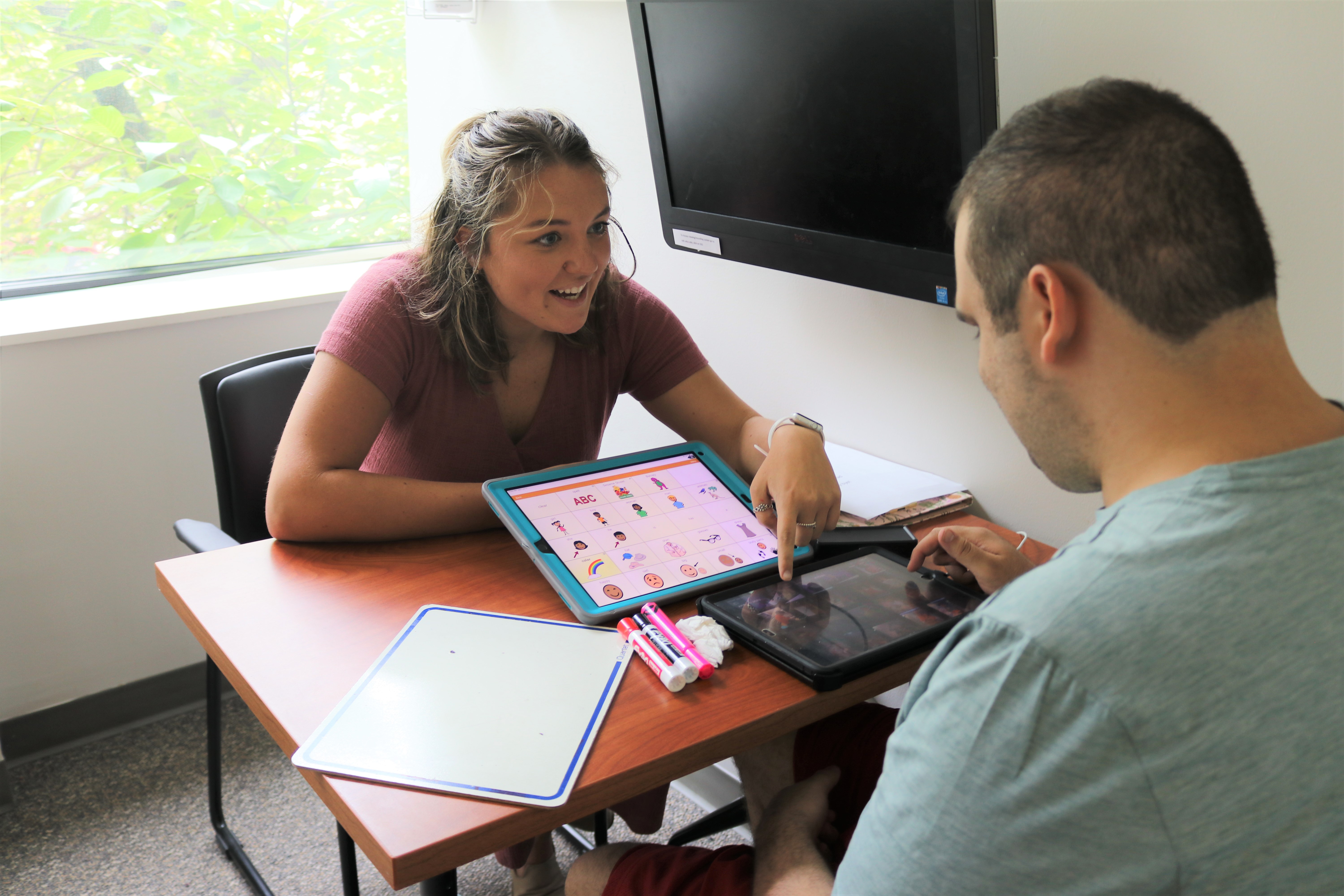 Daniel has a choice of icons on an iPad. He can choose many words in which to communicate with his family and his therapists at SLI. He likes to use spelling as part of his communication, so he also uses the AAC device as well as a supplemental white board.
After a half dozen training sessions at the Elkins Park, Pennsylvania clinical facility, all indications are positive.
"He's doing fabulous. In the beginning, he was a little hesitant because it was all new. But it's been nice to see his confidence grow each week," said DeMilia. "We see a lot more emotion in his face and he's more independent with the device than when he started. He's becoming more comfortable not only with the device itself but with his communication partner."
That communication partner is Jacqueline Ostaszewski '24SLP, who has learned about autism spectrum disorder (ASD) during her didactic education. She had Daniel as a client last semester as well, so the two are familiar with each other. 
"This is the biggest educational experience I've had," said Ostaszewski. "The ASD class has given me more background knowledge to work with someone with ASD. I never thought I would work with the adult population, but now I love working with adults."
In the beginning Ostaszewski said she was hoping to be able to connect with Daniel and have him have confidence in her as someone with the knowledge to effectively introduce him to a new way of communicating. 
"I was nervous in the beginning. But Sue and the rest of the faculty and staff at SLI have helped me so much to not only connect with Daniel but to gain more knowledge with the AAC devices. Now I can have more confidence working with a bigger population."
Daniel's progress with the AAC device has given his mother some peace of mind as well. 
"We were blessed to be selected as part of this grant to receive the device from the Eagles Autism Foundation and I'm grateful," said Cintron. "We've been struggling since his father got sick and all my attention was directed in dealing with that. We had to get back on track and concentrate on Daniel. He needs to be able to communicate and it's such a relief to have someone teach him to use the AAC device."
According to Kara Maharay, MS, CCC-SLP, BC-S, director of Clinical Education at SLI, being recipients of the Eagles Autism Foundation grant has been impactful in more ways than one.
"The funds we received from this grant will allow us to have an even broader reach in supporting our clients and their families that are impacted by autism in addition to offering free services in the SLI," said Maharay. "With these funds we have been able to purchase additional augmentative alternative communication systems to use in therapy sessions. In addition, we are able to support our families by providing them appropriate communication systems that are a necessity for communication. This ability will support our mission in ensuring all individuals have a voice."