Why do patients who have untreated or treated hearing loss have higher levels of hospitalization?
Blaha:
I know there's been more of a movement towards health literacy, and it's shown that patients who have untreated hearing loss or even those that have treated hearing loss, but it still limits their abilities that they tend to have higher levels of hospitalizations and repeat admissions. They can't follow the instructions they don't understand, and then they're not following up at a necessary rate to prevent continual sickness and illness. And so yeah, it's been a big push to do better about reinforcing what it is that you need the patient to accomplish.
Riley:
I think that we need to be acutely aware of that, not only with adults, but also with children. How do children learn health literacy if we're always talking to the parents? So as an educational audiologist, I partner with clinical audiologists, and I would have students who came back the next day, and I knew they'd been at the clinical audiologist, and I say, "so what happened? What did you guys decide?" And they just look at me. They go, I don't know. My mom knows because no one was talking to that child. I really encourage all audiologists working in pediatrics to talk to the child and allow the parent to listen. The parent can then ask more complicated questions or additional questions if they need to, but the child is your patient and your allegiance should be to that patient. And children cannot learn about their own bodies and their own health if we are not providing that information in a helpful way. So it's one of the things that I talk a lot about with pediatric audiologists.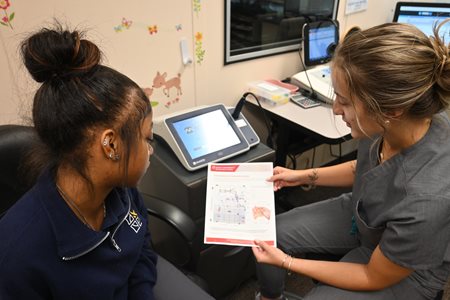 Blaha:
I remember that distinctly in graduate school, now we're talking 20 years ago, but they said, even when the patient needs to use interpreter services, don't let yourself be distracted by the interpreter because the patient is still sitting next to you, even though you're interacting with that interpreter. They're not the one that you need to truly impart the information to. And that can be distracting to realize, okay, the interpreter's here, but my patient is seated over here. And to always make eye contact and be respectful, that person. 
Riley:
 You always speak to the deaf person or your patient and they will look at you. They'll look at the interpreter while you're talking. Then they will look at you while they answer. So they're also making eye contact with you. It is very dismissive to look at the interpreter or talk to the interpreter or say to the interpreter, I just was with a group of deaf friends yesterday, and this conversation came up that the doctor will say, or whoever will say to the interpreter, tell them I said this. Tell them I said that as if they're a third party rather than the patient. I do think, and again, norms change over time. Even using the word, I never use the word hearing impairment. It is rampant in our research and our literature, but to me that is, again, a very honest or ableist term in that it suggests that that person is a broken form of the hearing person they were meant to be, rather than a person who hears differently.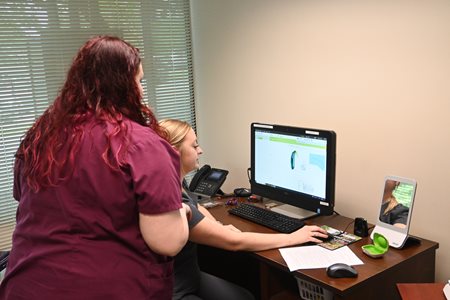 I'm actually working on a document with some deaf audiologists for the Educational Audiology Association (EAA) about preferred or acceptable terminology and saying things like hearing differences, reduced hearing, atypical hearing. As you said, when you grow up with hearing loss, whether you're born with it or it happens early in life, it doesn't feel like a loss. It is just a normal experience for adults who are normal hearing people and they have experienced hearing changes. Yes, those people might consider that a loss. But even in the new American Academy of Pediatrics (AAP) document, they talk about sensory neural hearing change. They do not use the word loss. So it'll be interesting to see how things change over time with new social norms.